Problem
After pressing Push config to device, the following message is displayed: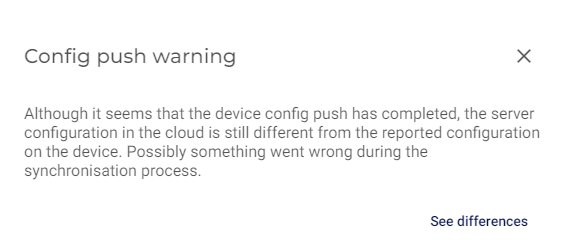 Config push warning

Although it seems that the device config push has completed, the server configuration in the cloud is still different from the reported configuration on the device. Possibly something went wrong during the synchronization process.
Cause
One possible cause is that the CloudVPN router doesn't report its configuration in time due to a higher CPU load. This behavior has been identified in the following scenarios:
On a Data source, the Polling sleep time is set to None.
A Data source is configured, but the CloudVPN router cannot reach this source.
Solution
Set the Polling sleep time to 100ms or higher if the problem persists.
Make sure that the CloudVPN router can reach the source. If the source doesn't exist, consider removing the data source from the CloudVPN router configuration.